"Around the corner. Around the world."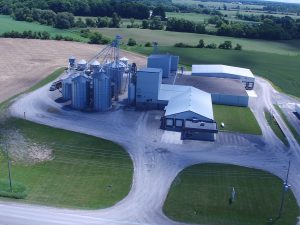 Relationships with others has been part of a successful formula that has allowed Beatty Seeds Ltd to grow from its early beginning as a local custom seed cleaning enterprise to a company that ships product around the world.
Tim Beatty's interest in seed production stemmed from his family's asparagus farm in Prince Edward County. After graduating from Ridgetown Agricultural College and working with Stoke Seeds in St. Catherines, Tim returned to Bloomfield in 1984. He purchased an on-going seed cleaning business from retiring neighbour, Maurice Pike. The entrepreneurial 20-years old had vision and dreams to grow the business and began by retrofitting the Mill Street facility to accommodate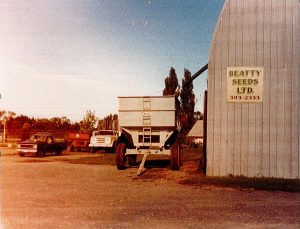 bulk handling of seed. The operation expanded from providing custom service for local farmers to cleaning and bagging wheat, oats and barley for the wholesale markets across the province.  Supplying agricultural businesses such as Bishop Seeds of Belleville and United Co-operators of Ontario helped develop the business. Soybean processing was added to the expand numerous future opportunities. In 1986, Tim and Linda married forming a life and business partnership that has seen many successes as their company and family developed over the years.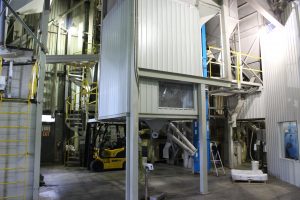 Beatty Seeds outgrew its Mill Street facilities. The first warehouse at the company's current location on County Road 12 was built in 1997. An administrative office was added the following year. In seeing the future a modern processing plant was completed in 1999. This enabled the attraction of processing seed soybeans for First Line Seeds and Monsanto.
To complement the seed business Beatty Seeds branched out into food-grade wheat processing. In 2005 Sandy Liddle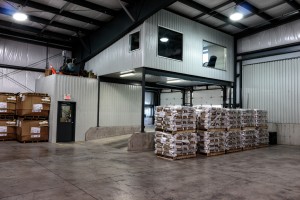 joined on with export food-grade soybean markets as his focus. Beatty Seeds achieved ISO Accreditation Certification to help meet the high-quality production standards required by its local and international customers. These enhancements gave Beatty Seeds the ability to explore international food grade soybean markets. Currently, Beatty Seeds is ISO, CSI and Organic certified which allows them to process for niche markets.
With the vision of meeting the future needs of the industry, the business has continuously upgraded and expanded their people and fa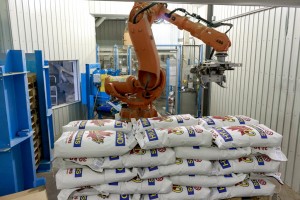 cilities. This includes upgrading of equipment for improved capacity and automation. The addition of robots used in bagging, labelling and stacking in both production lines. Great pride is shown in production, presentation and servicing the customer to the fullest.
Community and family are fundamental to Tim and Linda Beatty. Ryan Beatty, Tim and Linda's youngest son joined the family business in 2008. Their son, Kyle Beatty joined the family business, County Farm Centre in 2013. Having both children involved in the operation has been a dream come true. The ability to work together and share in the vision and growth as a family has many rewards. Each has their role and all understand the sacrifices and benefits in ensuring we meet/surpass our customer's needs. We take great pride in servicing our customers.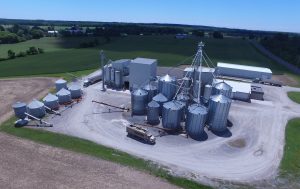 Currently, Beatty Seeds processes wheat, oat, barley and soybean seed in partnership with DEKALB, Dow, Brevant and SeCan. Food grade wheat is supplied to a cereal business. Food grade soybeans are marketed through The Andersons Canada which supplies local and international markets throughout various countries.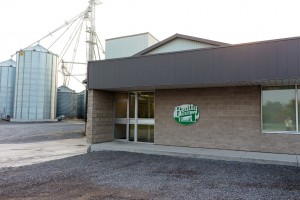 When asked what has contributed to your business success, Tim expresses "relationships". You have to have great relationships and people in the industry. This is key from beginning to end. The agricultural industry has changed over the years but Beatty Seeds value of honesty, integrity and strong relationships is still key to everyone's success whether you are around the corner or around the world.
Beatty Seeds Ltd anticipates future successful marketing of quality seed and food products locally and internationally.